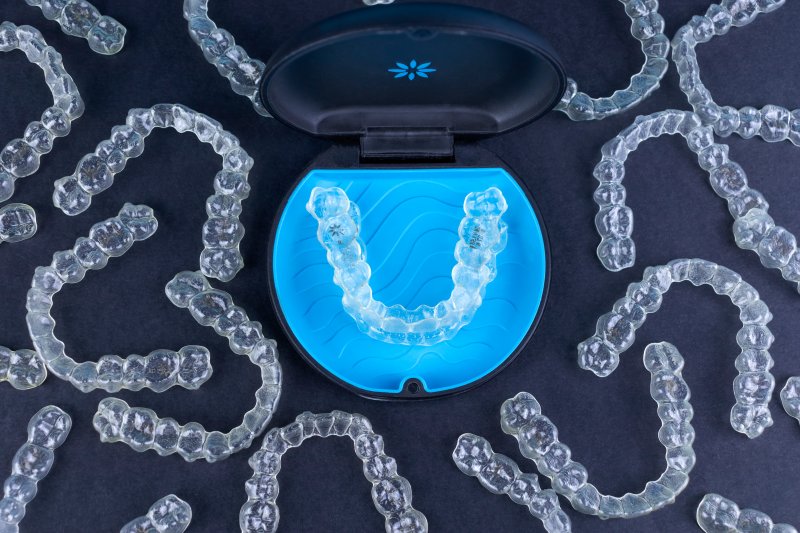 Before starting Invisalign, you probably want to address your concerns. After all, you'll need to understand the procedure and what to expect from it. The straightening process could be delayed or even fail if you don't! That said, you may not know where to start with your Invisalign questions. There may be many treatment aspects you want to cover. Thankfully, your Denison dentist is here to help. Read on to learn the answers to four critical questions about Invisalign aligner trays.
"How Long Does Invisalign Take?"
Generally speaking, Invisalign takes around 12 months. However, it can go faster or slower depending on the unique factors of your treatment plan.
For instance, the process can move more quickly if it's only treating minor crowding or spacing of the front teeth. In that case, the aligners just fix cosmetic issues without changing your bite.
On the other hand, correcting overbites, underbites, or crossbites takes a lot of time. Invisalign will also run longer if it involves missing or extracted teeth.
Most dentists with experience in aligner trays can give you a ballpark estimate during your consult.
"Will Treatment Affect My Speech?"
It might, at least at first. When you start wearing your trays, you may sound like you have a lisp.
You see, many sounds are made by pressing your tongue against your mouth's roof or the back of your top front teeth. Invisalign can change this distance a bit, confusing the tongue and thus causing speech changes.
Fortunately, this effect is only temporary. Most people, in fact, are fully back to normal within a week.
"How Often Do I See My Dentist During Invisalign?"
As you should know, Invisalign involves wearing multiple aligners over several months. Once your teeth finish straightening with one tray, you'll visit your dentist for the next one. This process will continue until you eventually end treatment.
You'll likely see your dentist every 4-6 weeks to switch your aligners at the correct times. These appointments are usually quick, being 20 minutes or less. They'll occasionally last longer if you need new buttons, impressions, or interproximal reductions.
"What Should I Do If I Lose My Trays?"
It usually isn't a big deal to lose a tray. You can safely move to the next one if you only have a few days before getting it.
If you lost one you'd just gotten, you will probably need a replacement. Let your dentist know so they can order a new tray easily.
Hopefully, the items above gave you a better sense of what to do and expect for Invisalign. For other related matters, feel free to talk to your local dentist.
About the Practice
32 & You: Family Dental & Orthodontic Arts is based in Denison, IA. Their team provides direct and honest care that transforms smiles for the better. As such, they offer preventive, cosmetic, and restorative dentistry, not to mention emergency dental treatments as needed. The practice is also a certified Invisalign provider for orthodontics. For more information or to book an appointment, you can reach them at their website or call them at (712)-263-3252.