Dental Implants – Denison, IA
Renew Your Smile
For a Lifetime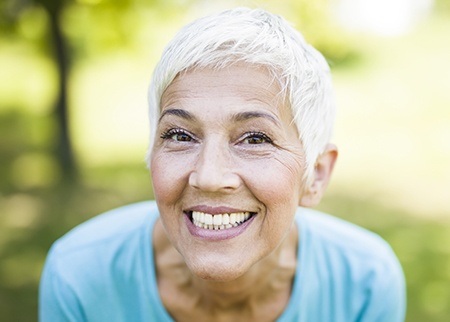 What makes a tree strong enough to stand up to the wind and ensures it doesn't fall down during a storm? The roots, right? Your teeth rely on their roots for their stability as well, but when they go missing, most replacements only bring back the top crown that you can see. As a result, common solutions like dentures and bridges are less stable and wear down more quickly than natural teeth. Dental implants, however, solve this problem, creating new teeth that not only look fantastic, but can be trusted to remain in place for decades to come. To learn more about how Dr. Bygness can use dental implants in Denison, IA to close the gaps in your smile for good, contact us today.
Why Choose 32 & You for Dental Implants?
Able to Bring Back Any Number of Teeth for a Lifetime
Trusted by Denison Families Since 1997
Personalized Treatment Plans Designed to be Comfortable
What Is a Dental Implant?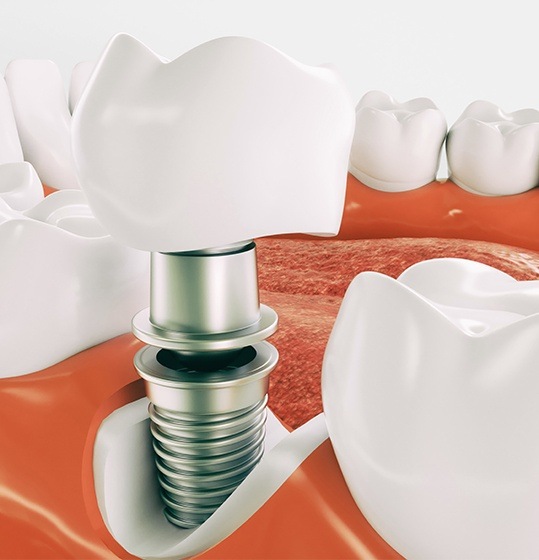 A dental implant is essentially a prosthetic tooth root made of titanium. A small post is placed directly into the jaw in the space left by a tooth, and there, it actually bonds with the surrounding bone to create an extremely firm hold. Then, this root is topped with a restoration, such as a crown, bridge, or denture, and the two are connected using a small screw called an abutment. Once in place, a patient won't be able to tell the difference between their regular and implanted teeth.
Benefits of Dental Implants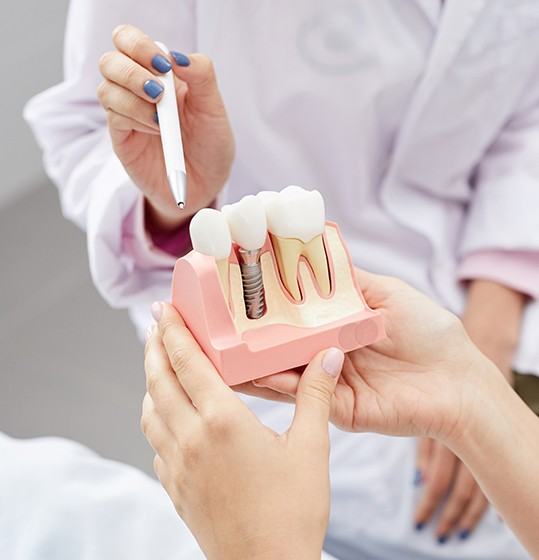 Did you know there are more than 3 million people who are already enjoying the many great advantages only dental implants can provide? With more than 500,000 being placed each year, it's no surprise that more and more people are turning to these permanent prosthetics to replace missing teeth. At 32 & U, Dr. Bygness and his team can give you back the confidence you deserve by mimicking the natural tooth structure using titanium implant posts, metal abutments, and customized dental restorations. As a result, you are left with a beautiful, fully functional, and healthier smile that has the ability to last a lifetime with proper care. To learn more about the benefits of dental implants in Denison, check out the list below and contact us when you're ready to schedule a consultation:
Day-to-Day Benefits
You will find that by choosing dental implants, you will not only eat, speak, and smile easier, but you'll have the opportunity to embrace a better quality of life. Here's how:
Easy Maintenance: All a patient has to do is brush and floss their teeth like normal to keep implants looking and functioning like new.
Ease of Eating: Food is no longer the enemy now that your implants provide a stronger bite force and greater chewing power. Unlike denture-wearers who should avoid certain foods, you are free to eat a healthy and nutritious diet full of your favorites.
Improved Confidence: It is believed that 10% of denture-wearers avoid going out to eat and spending time with others because of their prosthetics. Instead of avoiding social situations, you can embrace a better quality of life because your implants will remain firmly in place while eating, speaking, and smiling.
Health Benefits
Apart from their ability to improve your aesthetics, you will find that the health of your smile drastically improves, too. Here are just a few ways dental implants in Denison make it possible to maintain greater oral health as you grow older:
Jawbone Preservation: The jawbone naturally starts to shrink after tooth loss due to the absence of support from the roots, but dental implants fix this. This helps a patient preserve their facial shape and enjoy a more youthful appearance over time.
Premier Stability: Dental implants never move out of place, which is not only helpful when eating, but their stability also lowers the possibility of experiencing irritation and oral sores like many denture-wearers do.
Increased Lifespan: Because tooth loss is often linked to one's lifespan, your decision to choose dental implants makes it possible to lower your risk of many of the most common health problems (i.e., cardiovascular disease, diabetes, and osteoporosis), which can shorten your lifespan if left untreated.
Long-Term Benefits
As you grow older, you will find that dental implants offer many long-term benefits, some of which include:
Longevity: A dental implant can be expected to last anywhere from 30 years to life (by comparison, regular bridges and dentures last about 10 years at the most).
High Success Rate: Upon initial placement by a trusted implant dentist in Denison, your dental implants have a high success rate of 98%. After 10 years, they still possess a 90-95% success rate!
Cost-Effective: Although more expensive than fixed bridges or dentures when initially placed, dental implants can save you money over time. You will not need dental adhesives to hold them in place, regular adjustments or replacements every few years, or specialized cleaning supplies to maintain your prosthetics.
Who Can Dental Implants Help?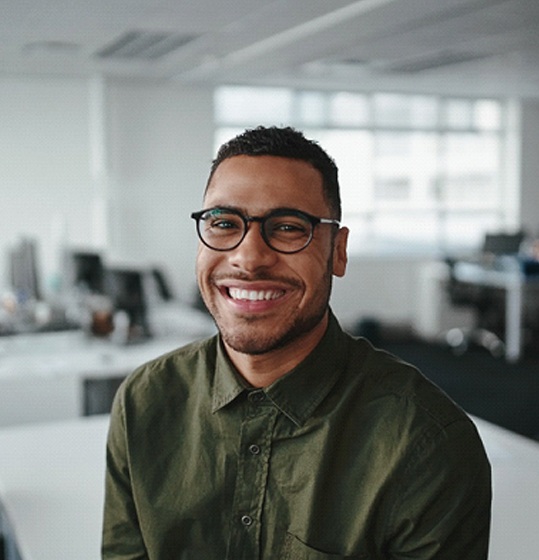 No matter how many teeth you might be missing, dental implants can be used to bring your smile back to life. From single gaps to entire arches of teeth, Dr. Bygness can design a treatment plan ideally suited to meet your unique needs. Due to the customized nature of this treatment, our team at 32 & You is able to provide smile-transforming results that last a lifetime with dental implants in Denison.
Who is a Good Candidate for Dental Implants?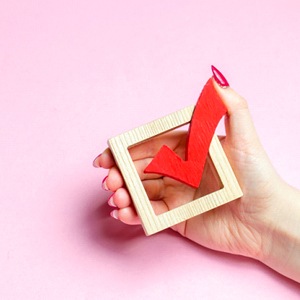 Dental implants are a versatile treatment that can be customized to help nearly any patient regain their smile. However, there are certain criteria you may need to meet before you can undergo implant surgery. To improve your chances of treatment success and make sure that you're able to get the most out of your dental implants, it's important that:
Your gums are healthy and free of infection.
Any medical conditions that impact your immune system, like diabetes, are currently being treated.
You don't suffer from severe jawbone loss, and if you do, you receive a bone graft to rebuild the structure.
The best way to learn whether you're a good candidate for this procedure is to schedule a consultation with Dr. Bygness, your dental implant dentist in Denison!
Missing One Tooth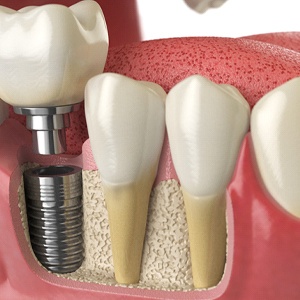 An implant root is placed into the jawbone between two healthy teeth and topped with a dental crown. The neighboring teeth don't have to be reshaped at all to accommodate the prosthetic, and the crown itself can be shaded to perfectly match the rest of the smile.
Missing Multiple Teeth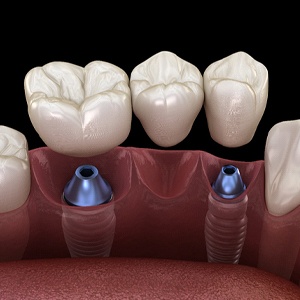 Rather than using individual implants to bring back multiple teeth, a small number of posts can be used to attach a bridge or partial denture to the jawbone. This gives these prosthetics much more strength and stability compared to traditional removable ones.
Missing All Teeth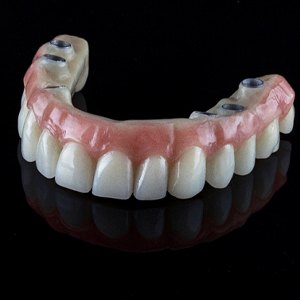 Tired of your denture moving whenever you speak or eat? Just four to six implants can be used to anchor a full denture to your jawbone and give you a set of teeth you never have to worry about again. Implant dentures are smaller and fit more comfortably than removable ones, but they also allow for a much stronger bite.
Partners with the Best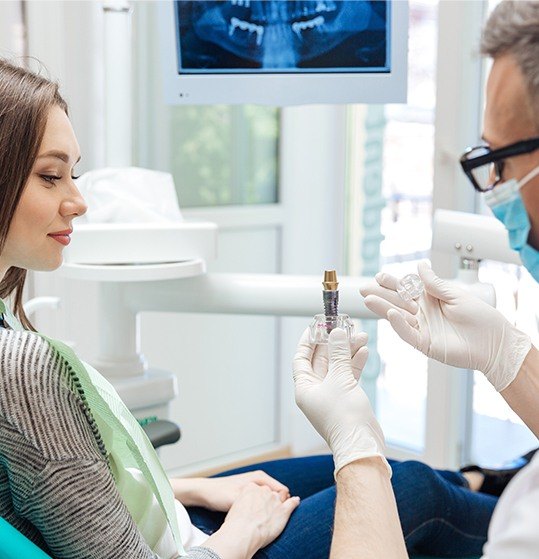 When you choose to get dental implants with us, Dr. Bygness will refer you to one of the top oral surgeons in the area to surgically place your implant roots. This will ensure that your new smile has a strong foundation, and you'll enjoy a comfortable treatment as well. Once your mouth has healed, you'll return to Dr. Bygness so he can attach your replacement teeth to your implants. From there, your smile will be ready for the world!
Understanding the Cost of Dental Implants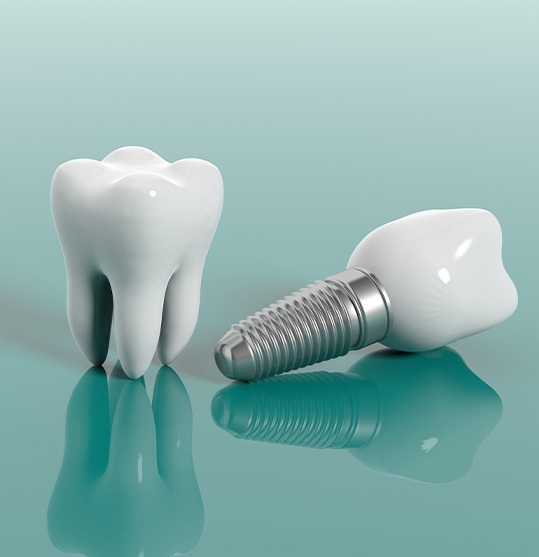 To make dental implants as effective as possible, Dr. Bygness puts a lot of effort into personalizing his treatment plans. Because of this, factors like how many teeth a person is replacing, where they are located in the mouth, and what kind of restoration will be used can all influence the final price and make it different from patient to patient. In the long-run, dental implants have been shown to be the most budget-friendly replacement option because they last so long and are usually a one-time cost for patients (as opposed to other treatments that need to be periodically updated). During your initial consultation, we'll review all the factors that will influence the cost of rebuilding your smile and give you a personalized estimate before beginning your treatment.
Preliminary Treatments & Dental Implant Surgery
Some patients may need to undergo preliminary treatments to ensure their dental implants are as successful as possible. Depending on your oral health, you may need to pay for a tooth extraction, bone graft, or periodontal therapy before we begin the dental implant treatment. These procedures will add to the cost of rebuilding your smile, but they are often partially covered by dental insurance.
Once your oral health is on track, we can estimate the cost of your dental implant surgery. However, the final price of your surgery will ultimately be determined by the oral surgeon you visit. We're proud to partner with some of the best specialists in Denison, so you can rest assured that you're receiving high-quality dental care at a reasonable price. Typically, the cost will be influenced by factors such as where in the mouth the implants are being placed and the use of sedation or anesthesia.
The Parts of Your Dental Implant
Like with practically every other product in life, the cost of your dental implant will also depend on which manufacturer makes it. Each brand varies slightly on the longevity and functionality of its products, and like with most things, "you get what you pay for." Some brands are more expensive than others, but this is typically because they offer the best quality. In addition, different brands may use different materials, such as zirconia or titanium, which will also influence the cost. We want you to feel 100% confident in your decision, so feel free to ask Dr. Bygness about where your dental implant is coming from and the quality you can expect.
Final Dental Implant Restoration
The more teeth you're replacing with dental implants, the higher the final cost will be. This is simply because replacing more teeth requires more materials. For instance, replacing one missing tooth with a single dental implant post and small dental crown will be less expensive than replacing multiple missing teeth with several implant posts and a larger dental bridge. However, if you're missing all your teeth, it's much more cost-effective to replace them with a custom denture than multiple individual crowns and implant posts.
Does My Dental Insurance Cover Dental Implants?
Unfortunately, most dental insurances don't cover the entire cost of dental implants. However, many plans will cover parts of your treatment, such as a percentage of your final restoration or preliminary treatments. Our highly experienced team will be happy to review the details of your plan and make the most of your dental insurance. They have years of experience helping patients maximize their benefits and minimizing out-of-pocket expenses.
Making Dental Implants Affordable
We believe that dental implants are the gold standard of tooth replacement, which is why we strive to make it an affordable option for everyone. For patients without dental insurance or adequate coverage, we offer flexible financing options through CareCredit. This third party provides payment plans that help break up the cost of your treatment into portions that easily fit into your monthly budget. To learn more about CareCredit, feel free to give us a call today or apply for one of their payment plans online via our patient resources.
Dental Implant FAQs
We understand that dental implants can be a complex and confusing process when you're only learning about them for the first time. If you're in need of tooth replacement and have other questions you'd like to address, we encourage you to call our office to set up an implant consultation or take a look at our most commonly asked questions below for more information. We look forward to helping you find a tooth replacement solution that fits your needs.
Am I eligible for dental implants?
More people are eligible for dental implants than ever before, but there are certain factors to keep in mind. For example, you should have good oral health before beginning treatment, especially good gum health. This ensures the healing process goes as planned. Furthermore, it's important that you have sufficient bone volume so the implant posts can properly adhere to your jaw. During your consultation, we'll confirm if you are eligible first so that you can have confidence in your surgery moving forward.
Are dental implants safe?
Dental implants are completely safe when placed by a professional. At 32 & U, we always partner with trusted implant specialists to ensure your implant treatment is a success. In fact, the average success rate for dental implants falls between 95 and 98 percent. As long as you follow all essential instructions for your aftercare (as in, the period immediately following your implant surgery), you can expect your dental implants to last for a very long time and remain healthy.
How do I ensure my dental implants last?
While routine maintenance is a must (i.e. brushing, flossing and professional exams and cleanings), it's very important to practice proper oral care and aftercare right after the implants are placed. For example, at-home oral care is important, but so is avoiding all tobacco products as these are known for increasing the failure rate for dental implants. You should also avoid strenuous exercise and stick to a soft diet, two steps that are standard when it comes to any type of oral surgery.
Can my dental implants fail?
Dental implants have an extremely low failure rate when placed by someone specially trained to perform treatment. With that said, it is possible. However, it's extremely unlikely because we always make sure to dedicate a large amount of time and energy on the planning process of treatment. This includes several X-rays of your jaw as well as numerous appointments with our implant specialists. Making your surgery predictable is just one of the ways we ensure no complications appear once the big day arrives.
Should dental implants ever feel loose?
No. There is no reason whatsoever why dental implants should feel loose. Dental implants are meant to mimic teeth as closely as possible and natural teeth do not shift out of place or loosen unless there is something wrong. For example, the implant may not have adhered properly with the jaw bone tissue. If this is the case, the implant will likely need to be removed.