Porcelain Veneers – Denison, IA
Smile with
Complete Confidence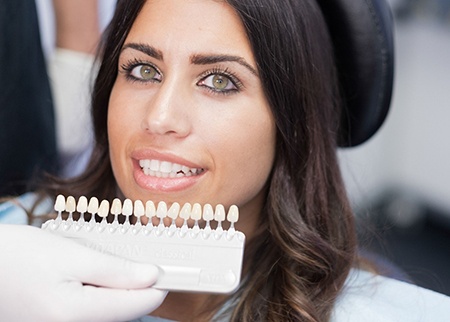 Is your smile so riddled with cosmetic flaws that you don't even know where to start improving them? Porcelain veneers in Denison, IA are a great place to begin. With these super-thin coverings placed over your problem teeth, Dr. Bygness can correct all kinds of aesthetic imperfections, from chips and cracks to stains and gaps. All that anyone else will see is your dazzlingly perfect grin. If you're ready to smile with complete confidence, contact us here at 32 and You to set up a veneers consultation.
Why Choose 32 and You for Porcelain Veneers?
Correct Multiple Flaws with Just One Treatment
Able to Last a Decade or Even Longer
Dentist Is Member of the American Academy of Cosmetic Dentistry
What Are Porcelain Veneers?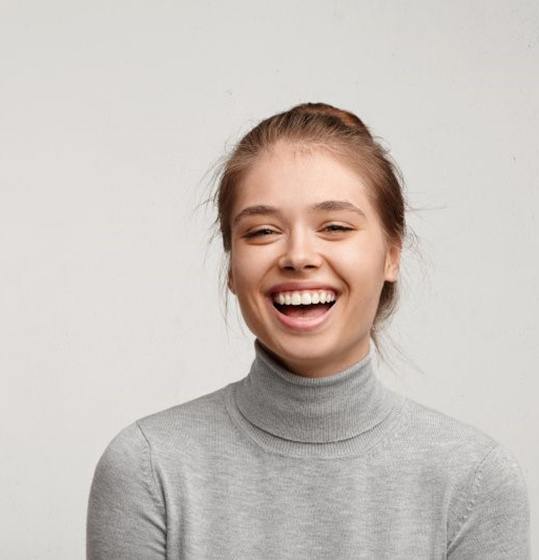 A veneer is a thin covering made of durable dental porcelain. Unlike a dental crown that covers the whole tooth, veneers are placed on the front-facing surfaces of any tooth that you would like to be corrected. Veneers are made from porcelain for a few reasons, including the fact that it can be easily shaded to match the color of the rest of your teeth. It's also more highly resistant to stains when compared to your natural tooth enamel. That means that your veneers aren't likely to become discolored through consuming darkly pigmented foods and beverages.
Who Is a Good Candidate for Porcelain Veneers?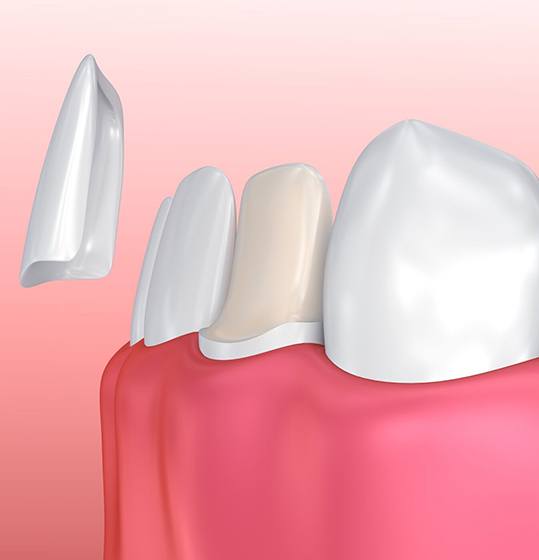 You might want to consider getting veneers if you suffer from one or more of the following problems:
Minor chips or cracks in your teeth
Severely discolored or stained teeth that don't respond to whitening treatment
Teeth that are misshapen in some way
Tiny gaps in between your teeth
Slightly crooked teeth
Also, it's important that your oral health is in good condition before veneers can be placed. We'll examine your mouth for signs of cavities or gum disease, which must be addressed prior to receiving veneers. The teeth that will receive the veneers also must have sufficient enamel to allow the veneers to bond to them.
What Is the Porcelain Veneers Procedure Like?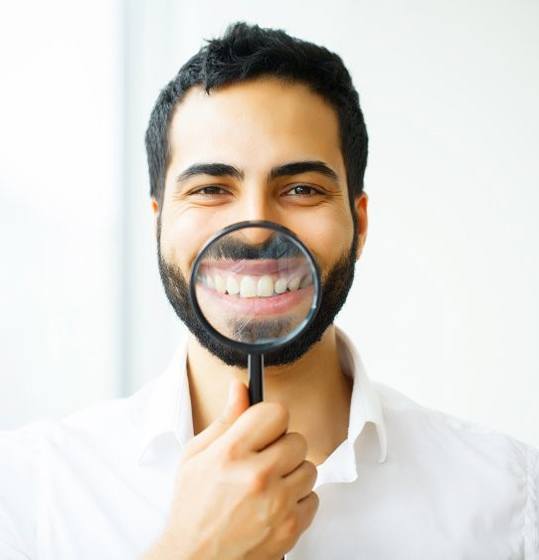 After your initial consultation, getting veneers normally takes two appointments. During your first visit, we prepare your teeth by removing a tiny sliver of enamel, about the same thickness as a contact lens. Then, we take an impression of your tooth and send that data off to our dental lab, where your new smile is painstakingly crafted by a team of skilled ceramists. On average, this process takes two to four weeks. In the meantime, we can affix you with temporary veneers.
We'll place your veneers during your second appointment. First, we'll adjust the shape and color so that they blend right in with the rest of your smile. Then, we'll bond your veneers to your teeth with a special dental cement that is hardened into place with a beam of light.
What Are the Benefits of Porcelain Veneers?
Porcelain veneers offer a whole host of advantages, such as:
They look like a completely natural part of your smile; most people won't believe you when you tell them you've gotten dental work!
Dental porcelain resists stains and won't irritate your gums.
The color of your veneers can be altered to make darker teeth appear whiter.
Veneers require less enamel removal than dental crowns.
Your veneers can be expected to last between 10 and 15 years.
Veneers don't need any special care beyond regular brushing, flossing, and biannual dental cleanings.
Veneer FAQs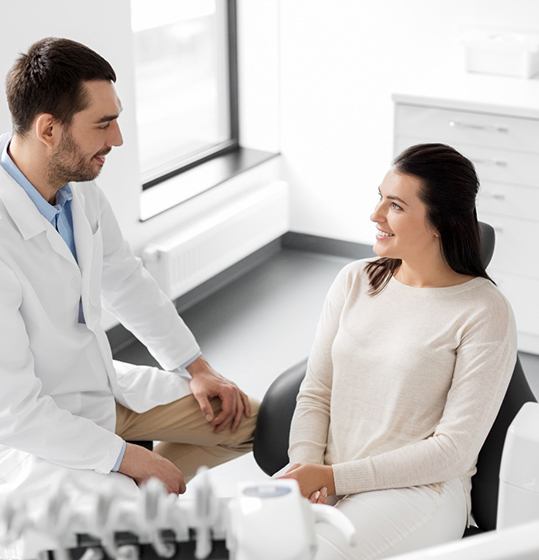 In as little as two visits, you can replace cracked, discolored, imperfect teeth with flawless, perfectly-shaped, white ones thanks to veneers. Since many of our patients have a few questions before committing to treatment, we've answered a few frequently asked questions below. That way, you can do a bit more research before giving us a call. However, if you have a specific question or want to schedule your initial consultation, then don't hesitate to contact our office.
How Long Do Veneers Last?
With proper care, veneers can last 10+ years! To prolong the lifespan of yours, priority number one is to implement a solid oral hygiene routine by brushing twice a day, flossing daily, and visiting our dentist every six months for a professional checkup and cleaning. Additionally, make sure to avoid poor dental habits, like smoking tobacco products, using your teeth to open things, and chewing on ice.
How Do I Get Veneers to Match My Other Teeth?
If you aren't using veneers for a complete smile makeover, then there are a few ways Dr. Bygness, our cosmetic dentist, can ensure the end result is absolutely flawless. First, he can meticulously match the veneer to your existing enamel so the addition blends in seamlessly with your other teeth. On the other hand, if you are looking to brighten your smile as well, he can choose a lighter shade and match the rest of your teeth with a whitening treatment. Either way, you can have peace of mind knowing that even your closest loved ones will have a hard time finding which teeth aren't natural.
Are There Any Foods I Should Avoid with Veneers?
During the initial recovery process, it's a good idea to stick with soft foods, like yogurt and oatmeal. From there, you'll be able to slowly incorporate your usual diet since veneers are crafted from high-quality, durable material. However, like your natural teeth, they can crack with enough pressure. Therefore, be cautious of hard foods that leave them vulnerable to breaking, like toffee and peanut brittle.
What Happens If One of My Veneers Comes Off?
If one of your veneers comes off, it is important not to panic. Instead, do your best to locate it and contact our office immediately. From there, one of our fantastic team members can walk you through the next best steps and schedule an appointment with Dr. Bygness. Under no circumstance should you attempt to bond it back to your natural tooth with a household item, like super glue. That can negatively impact both the veneer and your overall oral health, so leave it to our team to handle your treatment.
Are you ready to take the next step toward your dream smile with long-lasting, beautiful veneers? Then contact our office today to schedule your initial consultation.