Invisalign – Denison, IA
Achieving a Straight Smile Couldn't Be Easier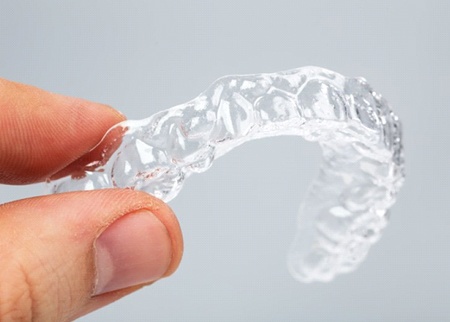 At 32 & You, we offer many orthodontic solutions for patients with misaligned teeth, noticeable gaps, rotated teeth, and uneven bites. As a result, achieving a straight smile couldn't be easier! One of the most sought-after treatments is Invisalign in Denison, which discreetly guides your teeth into their properly aligned positions, benefiting the look and function of your smile in the process. If you're interested in learning more about this highly sought-after treatment, keep reading or get in touch with our team.
Why Choose 32 & U for Invisalign?
iTero Digital Impression Technology In-House
Experienced Dentist with 400 Hours of Orthodontic Training
Personalized Treatments Designed to Meet Your Needs
How Invisalign Works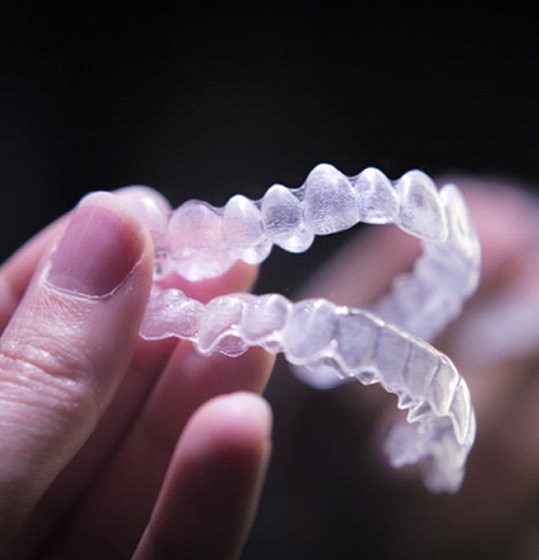 To start, Dr. Bygness will begin your Invisalign consultation by capturing detailed digital impressions of your smile. These will then be used to create your custom aligners. Each pair is designed to represent a different stage of your treatment. Simply wear the aligners for about 20 to 22 hours per day over the next two weeks, then move on to the next pair in your series. With each set you complete, your teeth slowly shift closer and closer to their straighter position. Every six to eight weeks, you'll come back to our dental office so we can confirm that your teeth are moving as planned. After you complete your series, you'll need to wear a clear retainer for the next year to ensure that your teeth do not relapse (or shift back) to their previous positions.
Indications for Invisalign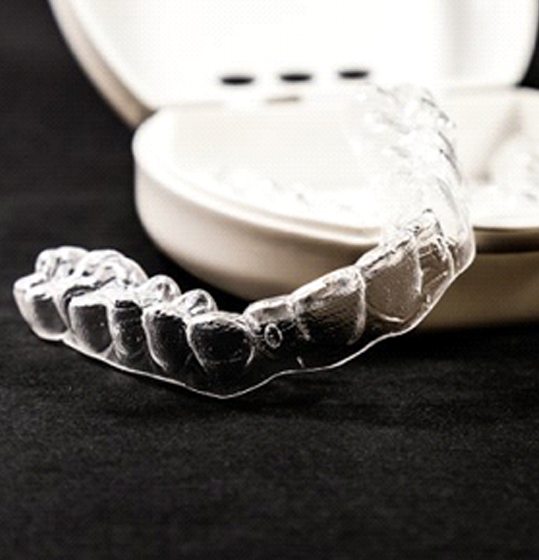 Invisalign isn't just incredibly discreet, it is also highly effective at treating a variety of orthodontic issues, including:
Crowded Teeth
If your teeth are crooked, then you're significantly more likely to develop dental problems, like cavities and gum disease. That's because the small crevices where crowded teeth meet can harbor food particles, bacteria, and plaque. Luckily, Invisalign can gradually shift your teeth into their properly aligned positions, improving the appearance and health of your smile.
Gaps Between Teeth
Gaps between teeth allow food particles and other debris to easily get lodged between the gums. Again, this orthodontic issue can pose a serious risk to your oral health. To prevent dental problems like gum disease from developing, our dentist in Denison can use Invisalign's clear aligners to bridge the gaps in your smile.
Bite Alignment
If your bite doesn't come together properly, you're vulnerable to problems like indigestion. The good news is that Invisalign can address both mild and moderate bite issues, like overbites and underbites. As a result, you can adjust your bite without bulky metal and dark-colored wires!
The Benefits of Invisalign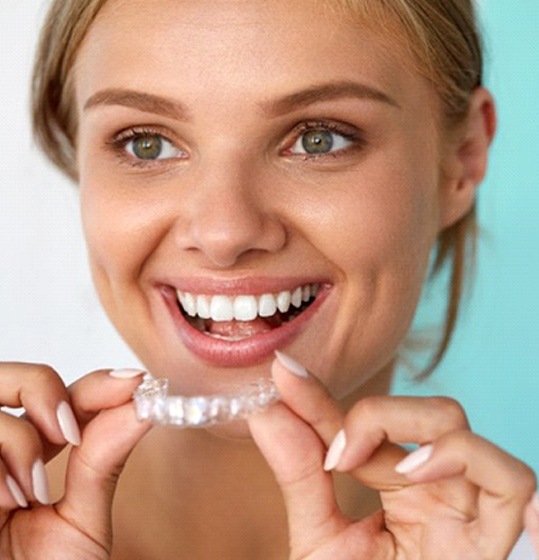 Not only does Invisalign not make use of any metal materials whatsoever, but the trays are completely transparent. This means you don't have to make significant changes to your appearance just to straighten your teeth. Furthermore, the average treatment time for Invisalign falls between 12 and 18 months, but this can vary depending on the severity of your misalignment. Even for severe cases, you can expect treatment to be a fraction of what is needed for traditional orthodontics.
Since the trays are removable, you can even eat the foods you want and you don't have to make changes to your oral care habits just to accommodate them.
How Much Does Invisalign Cost?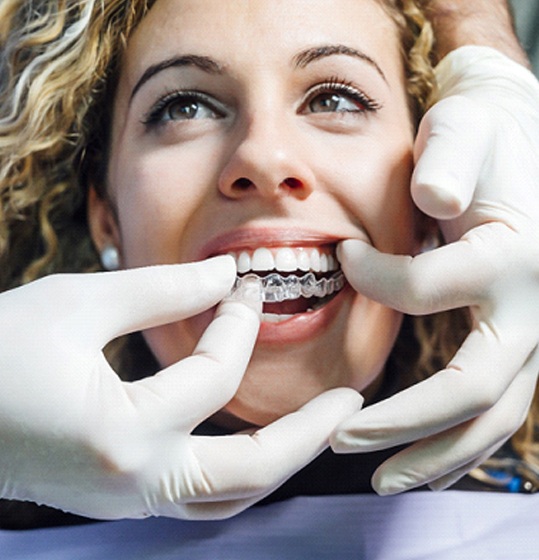 There are a few factors to consider when determining the cost of Invisalign. For example, are you straightening one or both arches of teeth? How severe are the orthodontic issues at hand? How many trays do you need to achieve your smile goals? Answers to questions like these will be determined during your initial consultation. From there, our dentist in Denison will create a custom treatment plan and provide you with an upfront cost estimate. That way, you have the exact price, not a rough guess based on someone's dental needs.
Invisalign FAQs – Denison, IA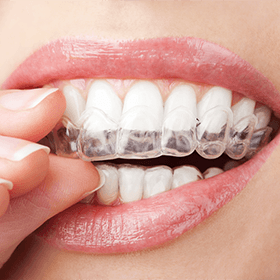 With the outstanding results our patients get from Invisalign at 32 & You, it's easy to see why people give it a satisfaction rating of more than 96%. But, even with the many benefits of Invisalign in Denison, it's still a big decision to make and you may have a few questions. Keep reading as we answer some of the most common FAQs we hear below. And don't hesitate to contact us if you'd like to schedule a consultation with Dr. Bygness or simply want to know more!
How Noticeable Is Invisalign?
Invisalign aligner trays are smooth, clear, and practically undetectable, but your teeth will look a bit "shinier" than normal when your trays are in. And when you've removed your aligners during meals, people may notice the small, temporary attachments on your teeth called "buttons" that anchor your trays into place. But since they're tooth-colored to blend in with your smile, they're far from obvious.
Will Invisalign Affect the Way I Talk?
It's not uncommon for new Invisalign users to speak with a slight lisp for the first few days after getting their aligners. Fortunately, adjusting to the way the trays feel and learning how to enunciate is relatively quick and easy. Plus, you can speed up the adjustment period by reading out loud and saying the more difficult words, like "sixty," repeatedly.
How Long Will It Take To Start Seeing Results?
Many of our patients begin to see changes in the first several months, but it depends on how severe your bite alignment issues are. If you only need relatively small corrections, you might even start seeing shifts within a few weeks.
What Should I Do If I Lose My Invisalign Trays?
If you lose your trays, call us right away so we can notify the Invisalign lab and have them make a new set (this typically takes 2 to 3 weeks). In the meantime, we'll have you wear your most recent pair of aligner trays until the new ones are made. These will act as temporary retainers to keep your teeth in place and prevent them from moving back to their initial positions. Although your final results will be a bit delayed, you won't lose any ground.
To minimize the chance of losing your trays, it's a good idea to get into the habit of putting them in their case instead of a napkin during meals. This will prevent you from accidentally throwing them in the trash.
Does Insurance Cover Invisalign?
Each insurance plan is different, and some cover orthodontic treatment while others don't. With that said, the plans that do cover it typically cover Invisalign at the same rate as traditional braces.
And, as an orthodontist in Denison, we know that Invisalign is an outstanding investment and want to make it as affordable as possible, so we accept most major PPO plans and are in-network with Delta Dental Premier and Blue Cross Blue Shield. We also offer Care Credit, a third-party financing option that allows qualified patients to make monthly payments with little to no interest. If you'd like to know more about what your insurance plan covers, give us a call and we'll be happy to explain your benefits.