Preventive Dentistry – Denison, IA
Proven Cavity Prevention
For All Ages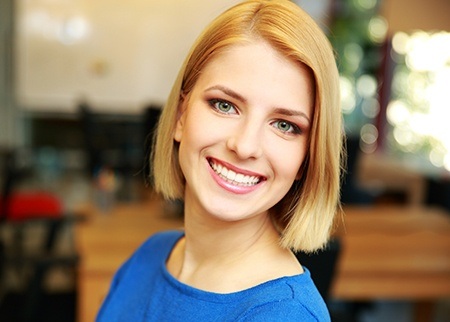 Oral hygiene and dental care create not just a healthy smile, but a healthy body as well. At 32 & You, we help patients maintain great dental health by largely focusing on preventive care. Rather than fixing your cavity or extracting a broken tooth, we help stop these problems from developing in the first place, leading to stronger smiles and smaller dental bills! To schedule you or your child's next checkup and cleaning, so we can safeguard your teeth with preventive dentistry in Denison, IA, give us a call today.
Why Choose 32 & You for Preventive Dentistry?
Dentist with 20+ Years of Experience Serving Denison
Every Patient Gets Plenty of 1-on-1 Attention
Ready to Take Care of the Entire Family Under One Roof
Dental Checkups & Teeth Cleanings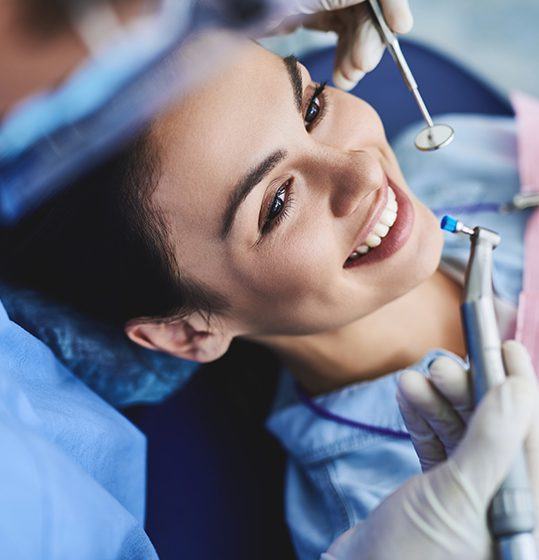 A dental checkup and cleaning appointment gives our hygiene team the chance to remove bacteria-filled plaque and tartar from the parts of your mouth that your brush and floss can't reach at home, ensuring they don't have a chance to damage your teeth. Also at these visits, Dr. Bygness will thoroughly examine your teeth, gums, and bite so he can catch and treat any problems before they turn into a major headache.
Dental Sealants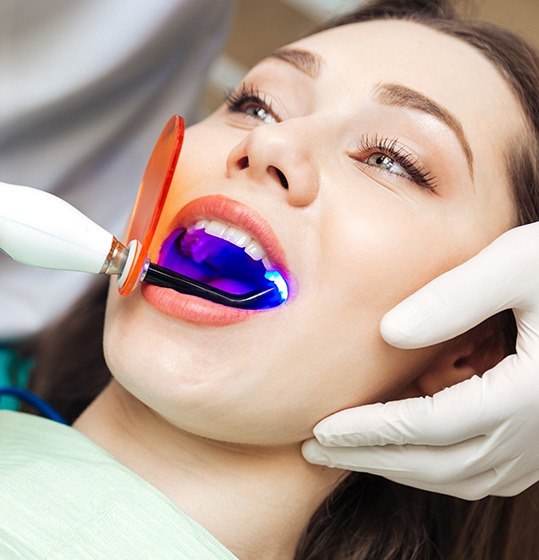 Brushing the back teeth is quite difficult for young children who are still learning, and they are often missed by adults as well. That's why the molars and premolars are the most likely place a person will develop cavities. Thankfully, we can offer extra protection in the form of a dental sealant. With this treatment, we simply cover these vulnerable teeth with a thin, clear layer of dental plastic to create an invisible barrier against plaque, bacteria, and cavities.
Athletic Mouthguards / Sportsguards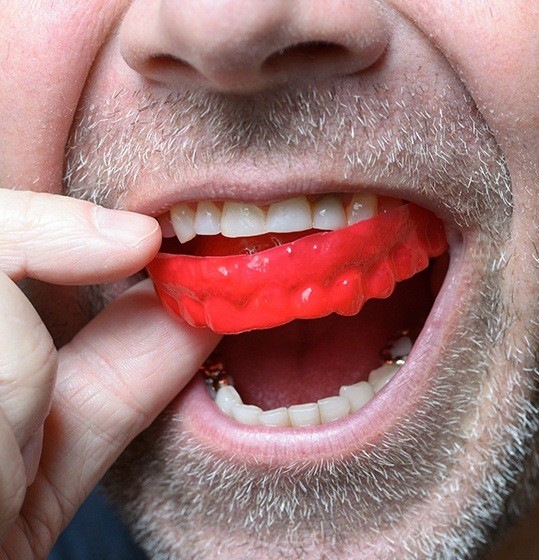 Before your child has one of their teeth accidentally knocked out while playing football, basketball, or any other sport that involves fast movement and flying equipment, we recommend they get their own custom-made mouthguard from 32 & You. Our mouthguards are both more comfortable and protective compared to anything you'll find at the store, and they are personally fitted for each individual. You should consider getting one for yourself if you play the occasional pick-up game as well!
Oral Cancer Screenings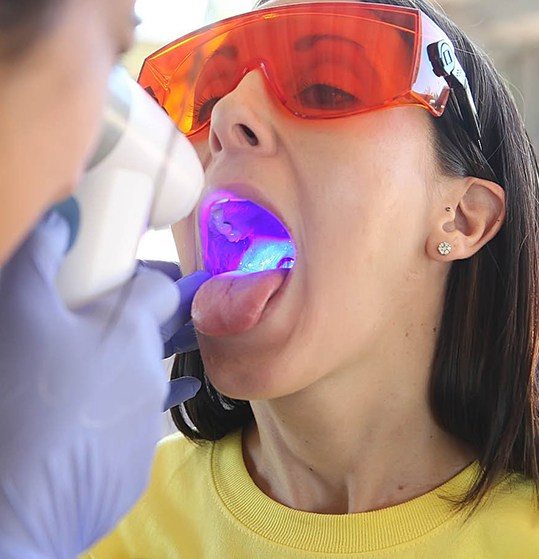 Oral cancer is actually one of the most deadly varieties of the disease, but it's rarely talked about in the media. During every checkup, we take a few minutes to search for the early signs of oral cancer to ensure a patient gets the treatment they need as soon as possible. With this early intervention approach, we're able to literally save lives and help our patients fully recover as quickly as possible.
Fluoride Treatments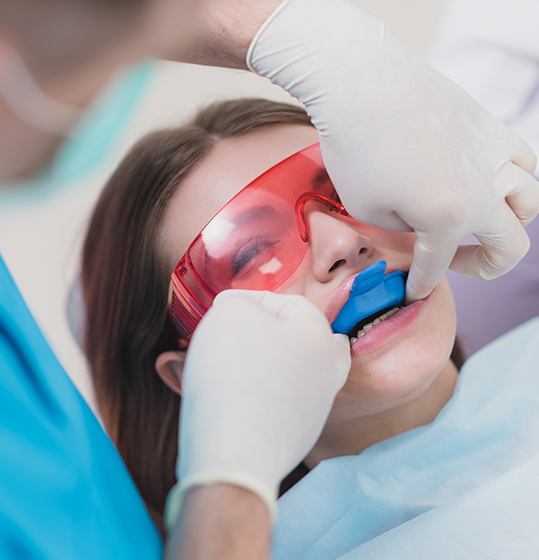 The toothpaste you and your children are using right now probably has fluoride added to it, and this is great news! This mineral actually strengthens enamel and makes it more resistant to developing decay. At the end of every dental cleaning, we coat the teeth with a highly concentrated fluoride solution to give a patient an extra boost of cavity protection that will last all the way until their next visit.
Children's Dentistry
As a father of four himself, Dr. Bygness understands the importance of early-age dental care more than most! Thanks to his dental experience and time spent with his two girls and two boys, he'll know exactly how to take care of your little one's growing smile and ensure they feel comfortable the entire time. We recommend bringing your child in for their very first appointment as soon as their first tooth appears. After that, we'll be able to take care of them for life!
Dental Checkup & Cleaning FAQs
At 32 & You Family Dental & Orthodontic Arts, we strive to prevent serious oral health problems by providing excellent routine care. During each dental checkup and cleaning, we will be happy to provide tips on how you can better care for your teeth at home and answer any questions you may have. In the meantime, our knowledgeable team has gathered some of the most common questions about preventive dentistry and answered them below.
If you have more questions about preventive oral care or if you are ready to schedule your next checkup, do not hesitate to contact our office.
Why Are Professional Teeth Cleanings Important?
If you diligently brush your teeth every day, you may think you can afford to skip regular dental cleanings in Denison. However, some forms of bacteria cannot be simply brushed away at home. When plaque, a sticky film produced by oral bacteria, stays on teeth for 48 hours or longer, it hardens into tartar. Once tartar forms, no amount of brushing in front of the bathroom mirror will be able to completely clean your teeth. Tartar can only be removed by a dental hygienist using specialized tools.
Do Dental Cleanings Hurt?
In most cases, dental cleanings in Denison should not cause any pain. However, you may feel some slight pressure as your dental hygienist scrapes away plaque and tartar from your teeth. In addition, if you have skipped a few checkups, your gums and teeth may be extra sensitive due to gingivitis or tooth decay. Rest assured, you can trust our team to do everything in their power to ensure your dental cleaning is as comfortable as possible.
Does My Insurance Cover Dental Checkups & Cleanings?
While dental insurance coverage varies, most insurance plans cover preventive oral care at 80% to 100%. That means that visiting our office for routine checkups and cleanings every six months may not cost you a penny! We are proud to be in-network with Delta Dental Premier and Blue Cross Blue Shield, and we will gladly work with out-of-network providers as well. Our talented team has many years of experience helping patients maximize their dental insurance benefits and minimize their out-of-pocket expenses.
If you don't have dental insurance, you can still get the preventive oral care you need without breaking the bank. CareCredit, a trusted dental financing organization, offers low-to-no interest payment plans to qualified patients. Ask our staff for more details!
Are Dental X-Rays Safe?
Dental X-rays have always been safe, but thanks to advances in digital technology, they are safer today than ever before. At 32 & You Family Dental & Orthodontic Arts, we use a Instrumentarium Digital Pan Ceph X-ray to get a precise view your teeth and oral structures below the gum line within minutes. Digital X-rays like the one we use emit up to 90% less radiation than traditional X-rays, making them better for your health and the environment.
What Could Happen If I Skip Dental Checkups?
Unlike some medical issues, like a sore neck or a stubbed toe, dental issues usually don't go away on their own. In fact, cavities, gum disease and other serious oral health problems typically get worse over time. If you skip routine dental checkups, small issues may easily go unnoticed – and untreated. As a result, those small issues could grow into big problems that will require more invasive and expensive treatment in the future. Visiting a dentist in Denison every six months is the best way to protect your smile and your wallet.