Meet Our Dental Team – Denison, IA
Here to Help You Smile
Whether we're answering your phone call, helping you schedule treatment, taking your dental X-rays, or cleaning your teeth, our team members strive to give you the best dental experience you've ever had. We strive to go the extra mile to help you feel relaxed and welcome here in our Denison dental office. We look forward to meeting you, but you can get to know more about us by reading the information below.
Erika, Office Manager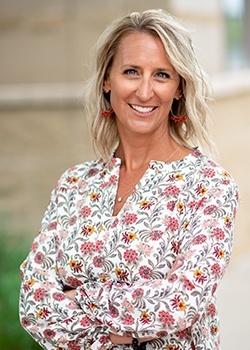 As a previous rehabilitation director for a large therapy company and an occupational therapist, Erika has always had a passion for helping people and supporting them as they work towards their personal goals. As our dental office manager, she goes above and beyond to help patients feel overjoyed with their smiles. It's always amazing to hear about how much the team has touched their lives for the better!
Erika and her husband Dr. Bygness have four very active and involved kids (Quinlan, Roman, Monroe, and Ezra) who are their world. Outside of dental office hours, they enjoy attending all of their various activities – all four kids play sports and also practice piano, while the girls participate in dance and the boys do Tae Kwan do. As for personal hobbies, she loves traveling. Tropical destinations are her personal favorite, as she's a warm weather girl and is always up for doing all sorts of stuff outside in the sun, including boating, working in the yard, and much more. She also really enjoys trying new restaurants and has a long-standing love/hate relationship with running.
Genesis, Bilingual Receptionist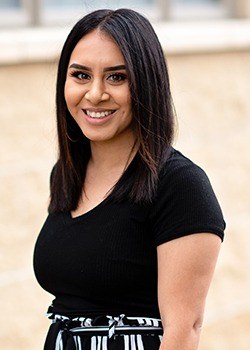 Originally from here in Denison, Genesis attended Southeast Community College in Lincoln, NE for her education. As our dedicated receptionist, she is able to assist our valued patients in multiple languages and help everyone feel right at home within the dental office. She goes above and beyond to build warm relationships that last over countless appointments!
At home, Genesis has a young daughter named Kélahni. When she isn't busy at work, her favorite hobbies include running and doing fun arts and crafts with her child. She also regularly helps out as a makeup artist for weddings, graduations, proms – you name it.
Stephanie, Front Desk Receptionist
Before joining our team, Stephanie was actually a patient at our practice! So, she knows better than anyone the importance of scheduling appropriate appointments, clearly explaining treatments, and making each person feel welcome. She earned her bachelor's degree in public relations with a minor in Spanish from Iowa State University!
Outside of dentistry, Stephanie's hobbies include hanging out with her dog, Kyan, spending time outdoors, and reading. Something interesting about her is that before she was a patient at 32 & You, she was TERRIFIED of going to the dentist!
Kayla, Dental Hygienist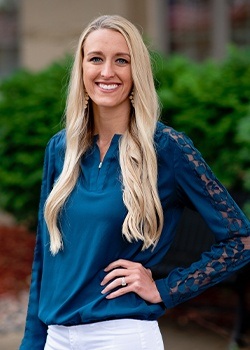 Kayla has been working in the dental field for nearly five years now, and she really enjoys being able to help each patient feel informed and comfortable throughout their visit. Originally from Schleswig, she studied at the University of South Dakota.
Kayla and her husband Pat have one daughter named Finnley. In her free time, she loves being with family and chasing around her little daughter constantly. They regularly travel and go adventuring outdoors, doing activities like hiking, boating, and riding motorcycles. She also really enjoys helping out with family nights at her church!
Megan, Dental Hygienist
As an Iowa native, it was only natural for Megan to complete her studies at Iowa Central Community College. Although she joined the dental field as a dental assistant, she is now a dental hygienist with more than five years of experience. For her, the best thing about her job is taking care of patients and sharing with them all the proper ways to maintain good oral health.
Outside the office, Megan and her fiancé are busy planning their December wedding! In her free time, she also enjoys spending time with loved ones, gardening, and going for walks/runs. Here's an interesting fact about her: she grew up on a farm!
Robbie, Dental Assistant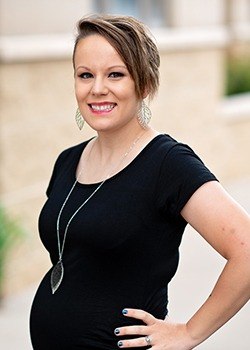 Robbie completed her education at Western Iowa Tech Community College, and today, her career in the world of dentistry spans over seven years so far. She is an Expanded Functions Dental Assistant as well. What she enjoys most about her role at the dental office is getting to interact so warmly with patients while helping them improve their smiles!
Robbie and her husband Eddie have three children together named Natalie, Matteo, and Samuel. When she isn't busy at work, she loves practicing photography and contributing to her husband's contracting business. They're also HUGE Notre Dame fans and try to make it to a game in Indiana every single year. GO IRISH!
Kailey, Dental Assistant
Kailey was born and raised right here in Denison! She completed her studies at DMACC in Ankeny and Western Iowa Tech Community College. Right now, she is working toward her EFDA, which she plans to complete in Fall 2021. When asked about her favorite part of her job, she shared that it is seeing peoples' smiles and happiness after getting the quality dental care they deserve.
Outside the office, Kailey enjoys spending time with her family, which includes her parents, sister, fiancé, and dog, Jax. In her free time, she loves helping around the farm, attending cattle shows, hanging out with friends, and watching sports. One thing you may not know about her is that she loves shopping!
Sadie, Dental Assistant
Sadie attended DMACC in Ankeny before officially entering the world of dentistry. Although she is relatively new to our team, she loves working with her colleagues and getting to know all of our wonderful patients. In fact, that is her favorite aspect of her job!
When she isn't at our office, Sadie loves spending time with family and friends, pursuing her artistic side, and being outside. Here's an interesting fact about her: she has an obsession with Olive Garden!