Traditional Braces – Denison, IA
The Tried and True Method for Straightening Teeth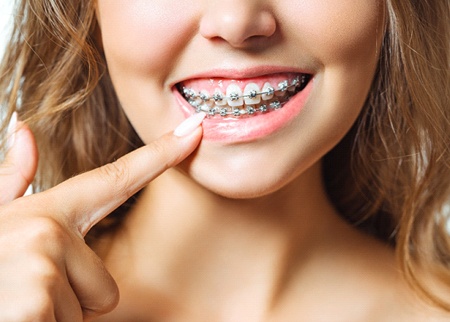 There are lots of orthodontic innovations on the market today. Clear/ceramic braces, clear aligners, and other methods have been invented that are quite good at straightening teeth. However, traditional braces have not lost their place as one of the most reliable, effective ways to correct dental misalignment. This remarkable treatment has already helped countless individuals to achieve a healthier, more attractive smile — and it may be able to help you as well. If you are interested in talking about your orthodontic options including traditional braces in Denison, IA, contact our team today.
Why Choose 32 and You for Traditional Braces?
Dentist with decades of experience
Member of the American Orthodontic Society
Reliable, effective teeth straightening
How Traditional Braces Work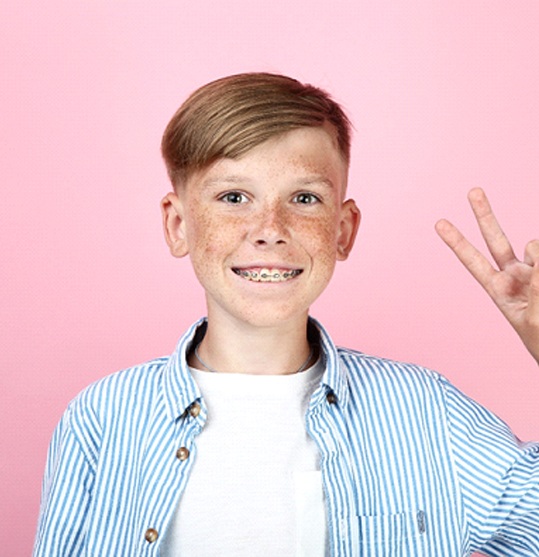 Traditional braces consist of metal brackets that are bonded to the teeth. A wire connects the brackets. As the wire gets tightened at periodic appointments with your orthodontist in Denison, the teeth gradually move closer and closer to their ideal positions. Some patients require special attachments to help their braces be as effective as possible.
The total treatment time with braces varies depending on each patient's unique needs. When you visit our team for your consultation, we'll be sure to give you a realistic preview of your treatment journey.
Who Is a Candidate for Traditional Braces?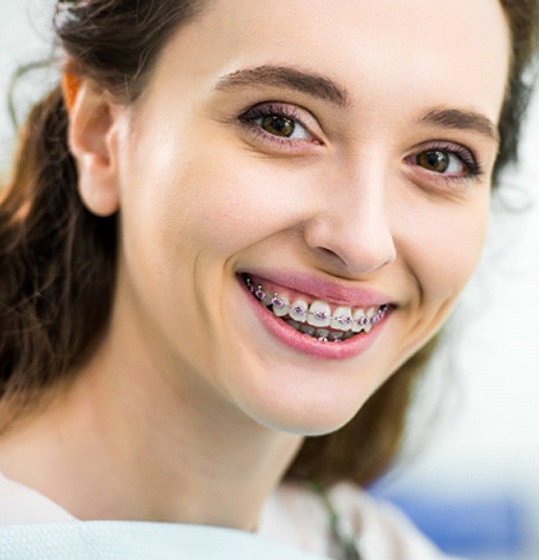 Basically, anyone who suffers from dental misalignment is a candidate for traditional braces. Whether your misalignment is mild or severe, braces may be able to help you. They can tackle a broad range of issues, including gapped teeth, crowded teeth, and malocclusion (bad bite).
There is a common idea that traditional braces are best suited for children and teenagers. However, that is simply not true. Patients of any age, including mature adults, can benefit from traditional braces. Of course, if you are an adult who is interested in a more discreet orthodontic solution, you may be a candidate for alternative treatments.
Benefits of Traditional Braces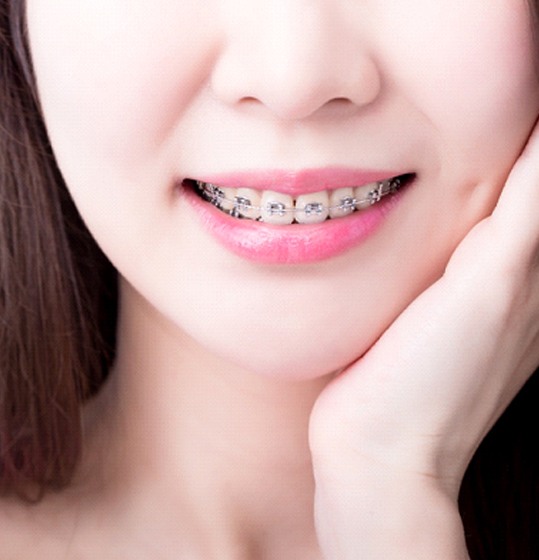 Some of the most outstanding benefits of traditional braces in Denison include:
They can correct a broad range of dental misalignment problems.
They are extremely durable.
Since they are bonded to your teeth, you will not have to worry about forgetting to wear them (as might happen with removable aligners).
Teenagers love to express themselves by choosing fun colors for the braces' brackets.
Modern braces are subtler and more comfortable than the braces of decades past.
Traditional braces are one of the most affordable orthodontic solutions.
Tips for Living with Braces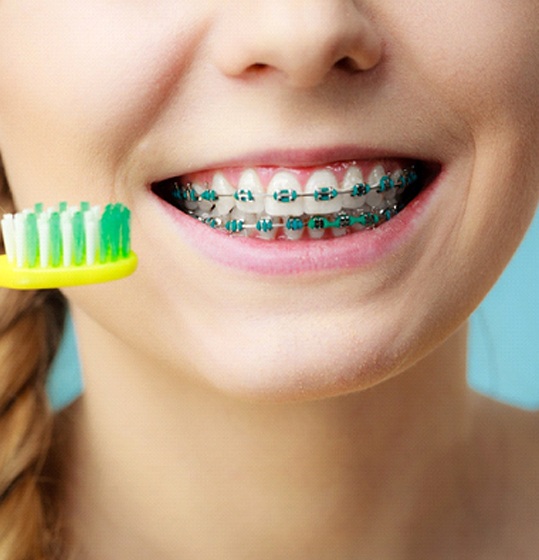 While you're wearing braces, you may need to make some adjustments to your everyday habits.
You should clean your teeth after every meal. It's a good idea to carry a toothbrush and an interdental flosser with you at all times.
Certain foods, such as things that are sticky or crunchy, might damage your braces or get stuck in them. We'll give you detailed pointers on how to eat when you receive your braces.
If you experience any discomfort when your braces get tightened, over the counter pain medication should provide adequate relief.
Understanding the Cost of Traditional Braces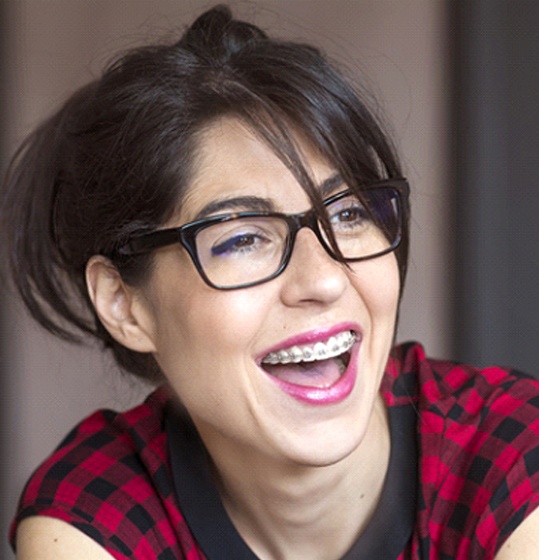 It is common to wonder about the cost of braces in Denison. After all, the price tag is likely the most widely considered factor when choosing whether you should move forward with orthodontic treatment. At 32 & U, our team wants you to know that no two cases are alike, so only until you schedule a consultation with us can we determine exactly how much you can expect to spend on a newly straightened smile. We will work with you and your dental insurance to determine your out-of-pocket expenses as well as identify any alternate ways to pay should you need additional assistance.
Factors That Affect the Cost of Traditional Braces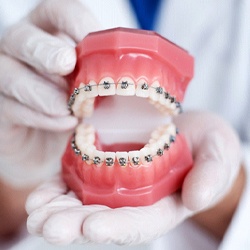 There are many factors that will ultimately be used to determine how much your orthodontics in Denison will cost. During a consultation with our team, we will evaluate your smile and consider the following:
The severity of your dental problem (i.e., overcrowding, bite misalignment, spacial issues, crooked teeth)
How long you can expect your treatment to last
If you require a full set of braces or only a partial set (for those teeth that are visible)
If you require any additional orthodontic appliances (i.e., rubber bands, palate expander, etc.)
Once we have a thorough idea as to what your treatment will look like, we will sit down with you to discuss the details to ensure you are aware of the cost and that there are no surprises along the way.
Does Dental Insurance Cover Traditional Braces?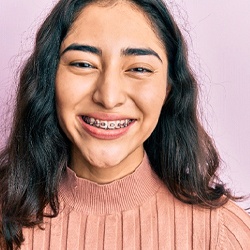 It depends. The best advice is to check with your dental insurance company to find out if you have orthodontic coverage. Some incorporate it into their plans while others require you to purchase a separate policy. You'll also need to find out if there are any exclusions or exceptions (i.e., coverage only available for individuals 19 and under). If you do have available coverage for traditional braces, our team will work to maximize your benefits so you will pay the least possible amount for your treatment.
Options for Making Traditional Braces Affordable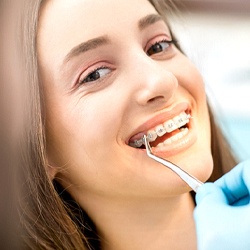 If you are uninsured or need help to pay the remaining balance after filing with your dental insurance, your braces dentist in Denison has a solution. Instead of emptying your savings account, you can enroll in a low or zero interest payment plan through CareCredit. This flexible financing opportunity will allow you to break up the cost of your treatment and stay within your budget. This means you can move forward with straightening your smile without maxing out your credit cards or depleting your bank account.
Traditional Braces Frequently Asked Questions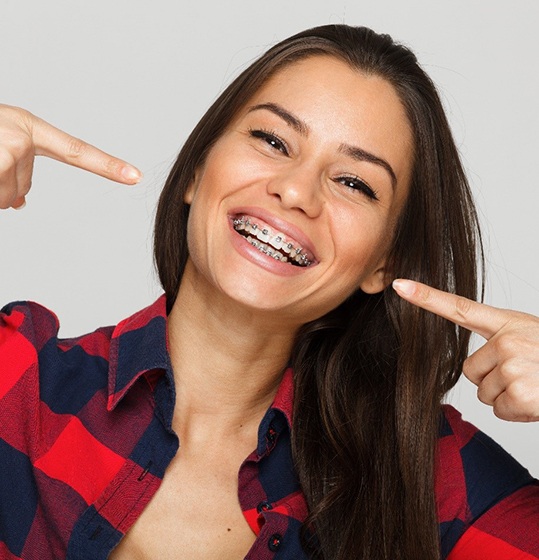 Do you have an orthodontic problem that requires wearing braces in Denison? Traditional braces can help put you on the right track to a healthier, more aesthetically pleasing smile, but it is no surprise that you probably have a lot of questions about treatment and what to expect. Fortunately, the team at 32 & U have compiled some frequently asked questions about traditional braces that should help provide more clarity so you can feel confident about your treatment. Contact us today with any additional questions you have about your future braces.
Does it hurt to wear braces?
Traditional braces require metal brackets and wires to be placed onto your teeth. To achieve desired results, it is necessary that Dr. Bygness and his team adjust and tighten your wire every few weeks. This forces your teeth to shift and move in the right direction. As a result, you may experience some discomfort in the days following your appointment. An over-the-counter pain reliever and eating soft foods can help to minimize the pain and help you to feel better much quicker.
It is also recommended that you keep dental wax on hand should you feel any irritation to your soft tissues from your metal brackets. This will create a barrier to better protect your lips, tongue, and gums.
Can braces damage my teeth?
While metal braces cannot damage your teeth directly, poor oral hygiene while wearing braces certainly can. Tooth decay and gum disease can develop while wearing braces in Denison, which is why it is so important to maintain good oral health. By brushing your teeth twice a day for two minutes, using the correct flossing mechanism to get in-between teeth as well as your brackets and wires, and rinsing with an ADA-approved mouthwash, you can avoid these common dental problems and maintain a healthy smile.
How long will I need to wear my braces?
Depending on the severity of your problem at the beginning of treatment, it is estimated that most patients can average wearing their braces between 1-3 years. During your initial consultation with Dr. Bygness, he will perform a comprehensive exam and provide a thorough treatment plan, which will detail how long you can expect your timeframe with braces to last.
Will my insurance cover the cost of my braces?
Most dental insurance companies do not cover orthodontics; however, for those that do, the level of coverage can vary. If you are unsure how much your treatment with traditional braces will cost, either call and speak to a representative with your insurance company or ask one of our valued team members to work on your behalf. Not only will we help find ways to minimize your out of pocket expenses, but we will work to provide additional payment options to help you establish a plan that best fits your budget.