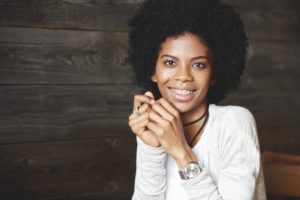 Did you recently start orthodontic treatment? Congratulations – you're a step closer to an even more aesthetically pleasing, functional, and healthy smile! Of course, there are some slight adjustments you'll have to make to your diet and oral hygiene regimen in the meantime. To make this transition seamless, keep reading to learn five things that make life with metal braces easier.
1. Dental Wax
Dental wax is crucial when you have braces. After all, it allows you to effectively cover any sharp brackets and wires that would've otherwise irritated your gums, lips, and the soft tissue in your mouth. To use it properly, simply remove a small piece and place it over the problematic area. Since it is water-resistant, you can keep it in place throughout the day without worry.
2. A Big Bottle of Water
Mouth sores with braces can be quite the pain. One of the best ways to prevent them is by keeping your mouth clean. Staying hydrated can help! Plus, drinking plenty of water throughout the day will help prevent dry mouth, which can increase your chances of developing a mouth sore as well. So, do your best to keep a large bottle of water with you at all times.
3. Soft Foods
When you first get your braces, your mouth may feel a bit sore. While you'll adapt quickly, you may experience a similar sensation after each adjustment appointment. For this reason, it's a good idea to stock up on soft foods, like yogurt, applesauce, oatmeal, and soup.
4. An On-the-Go Dental Hygiene Kit
Cleaning your braces is important, and of course, taking care of your teeth is too. It's key to brush your teeth after each meal, even lunch. The good news is that this doesn't have to be a cumbersome process – just pack an on-the-go dental hygiene kit. Complete with a travel-sized toothbrush, toothpaste, and floss, you'll be able to complete your oral hygiene routine with ease no matter where you are!
5. A Water Flosser
Do you find flossing to be a bit awkward now that you have braces? Then try an alternative, like a water flosser. The pressurized stream of water will remove food particles and plaque without you having to weave a string of floss between each tooth. Just make sure to talk to your dentist about how to use it properly since there is often a bit of a learning curve.
Naturally, you want the transition into life with metal braces to be as smooth and seamless as possible. The good news is that these items will help!
About the Author
Dr. Ryan Bygness has been working hard for smiles in the Denison area for a quarter-century, and he always looks forward to meeting his next first-time patient. He earned his dental doctorate from the University of Iowa and has since attained his orthodontic certificate as well. Dr. Bygness is a member of the American Dental Association and the Academy of General Dentistry. If you are interested in traditional braces, count on him as a member of the American Orthodontic Society to deliver the results you seek. Schedule a consultation on his website or call (712) 263-3252.