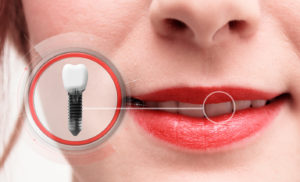 If you are missing some or all of your teeth, then you know how an incomplete smile can make you feel: embarrassed, shy, or lacking in confidence. Even if you wear a traditional bridge or denture, you may find that you cannot totally recapture how you felt when you still had your natural teeth. Sound familiar? Then you will want to know about dental implants in Denison. With over 5 million dental implants placed in the U.S. each year, dental implants are fast becoming the most popular tooth replacement solution. Many people choose dental implants not only because of how they look, but how they feel. Keep reading below to learn more.
What Are Dental Implants?
Dental implants are small titanium posts that are inserted into the jawbone beneath the gums. Over the course of several months, the implants fuse directly with the surrounding bone through a process called "osseointegration". By replacing the missing tooth root structure, dental implants provide a supremely stable base for a new crown, bridge or implant denture.
What Do Dental Implants Feel Like?
Once the sedation or anesthetic from the implant placement procedure wears off, your mouth will likely feel a bit sore for a few days. However, if you follow the aftercare instructions from your dentist and take any pain medication they prescribe, you will easily overcome any lingering discomfort.
After your dental implants have fully healed, your new implant-supported teeth will feel pretty much the same as natural teeth! Unlike other dental prosthetics that rest on the top of gums, dental implants replace teeth from the roots up. This not only enables implants to provide maximum stability but also gives them a natural look and feel.
Best of all, you will be able to speak, laugh and eat all of your favorite foods without worrying about your replacement teeth slipping! Many patients find that dental implants give them a sense of confidence that they never had when they wore traditional dentures.
More Benefits of Dental Implants
In addition to looking and feeling like natural teeth, dental implants in Denison offer a range of impressive benefits. For example, implants:
Stimulate the jawbone to prevent bone deterioration
Prevent one's face from sagging and looking aged
Have a high success rate of up to 95%
Can last for decades or even the rest of your life with proper care
Do not rely on healthy teeth to stay in place, unlike traditional bridges
Are easy to maintain with regular brushing, flossing and dental checkups
Are you ready to rebuild your smile and restore your confidence? Ask your dentist if you would make a good candidate for dental implants.
About the Author
Dr. Ryan Bygness has over 20 years of experience helping patients restore their smiles with dental implants. Since graduating from the University of Iowa College of Dentistry, he has completed over 400 hours of continuing education in orthodontics alone! To learn more about the benefits of implant treatment, visit the 32 & You Family Dental & Orthodontic Arts website or call 712-263-3252.