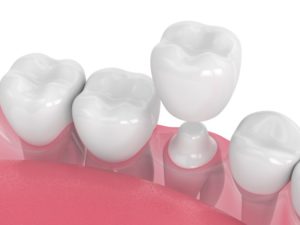 If you have a broken tooth that's making it hard to smile with confidence or chew without discomfort, then a dental crown is a great solution. This custom-made cap is made of dental porcelain, which looks almost exactly like natural tooth enamel. Not only do dental crowns look lifelike, but they also protect your tooth from sustaining more damage. But exactly how long do dental crowns last? Read on to learn how long you can expect your crown to last, as well as some tips for prolonging its lifespan even further.
Factors That Affect How Long Your Dental Crown Will Last
Because of their personalized fit and the powerful cement that keeps them in place, dental crowns can easily last for 10 to 15 years. However, certain factors can damage or loosen it sooner than that. The lifespan of your dental crown will depend on:
Bad habits – Over the years, the pressure from chewing on ice, pens, pencils, fingernails, or other hard, inedible objects can weaken your crown. Chronic teeth grinding (bruxism) can do the same thing.
Oral hygiene – Although the crown itself cannot get cavities, the tooth underneath it still can. Decay in this tooth can loosen the crown, not to mention harm the tooth.
Location in the mouth – Since your molars are subject to more chewing pressure than teeth toward the front of your mouth, crowns on these teeth tend to wear down more quickly.
How to Take Care of Your Crown
Luckily, there are plenty of ways to keep your crown in good shape and maximize its lifespan, such as:
Brushing your teeth twice a day for two minutes each time
Flossing every night before bed
Limiting or avoiding foods that are overly crunchy or sticky
Seeing your dentist every six months for a checkup and cleaning
When to Get Your Crown Replaced
At each of your checkups, your dentist will closely examine your crown to make sure it's still doing its job. A weakened crown can put you at a higher risk for cavities and gum infections, so it's essential to visit your dentist regularly. Between these appointments, take note if anything feels off about your crown. If your crown ever feels loose, or you experience sensitivity or pain while eating, call your dentist right away.
Today's dental crowns are more durable and reliable than ever before. If you take good care of them, they can protect your smile for years to come!
About the Author
Dr. Ryan Bygness has been a dentist in Denison, IA for more than 20 years. During that time, he has taken extensive continuing education courses to hone his clinical skills. He loves using his cosmetic dental experience to provide lifelike, lasting dental crowns that restore patients' smiles and oral health. If you have questions about caring for your dental crown, you can reach out to him online or call him at (712) 263-3252.